Mighty Mites is a parental supervised fitness drop-in session for children under 5 years, incorporating bouncy castle, bikes, trikes and soft activities.
Main Hall Heating is available throughout the colder months of the year and we also offer free parking, cafe and bar, baby change, toilets and a disabled changing room.
An inflatable Go-Kart Track is available in our Lancing Manor session every Monday & Friday from 11.00am
Lancing Manor Mighty Mites Sessions

Day
Time

Monday

9.00am - 2.30pm

Tuesday

9.00am - 2.30pm

Wednesday

9.00am - 2.30pm

Thursday

9.00am - 2.30pm

Friday

9.00am - 2.30pm

Sunday

9.00am - 12.00pm
Due to some events taking place on a Sunday please check with Reception for Closures & Opening hours.
Mighty Mites Prices

Under 6 months

FREE

6 - 11 months old

£4.20

12 months - 5 years

£5.20
Our prices for our sessions does not have a hourly time limit; you can stay as long as you like.
Please note on Sunday 8th March Mighty Mites is cancelled due to a dance event taking place in the Main Hall. Sessions will be back up and running on Monday 9th March. We apologise for any inconvenience caused.
Parental/Guardian supervision required at all times
With the exception of baby food, Customers are not allowed to bring their own food and drink. Food and drink purchased on the premisis may be consumed however is not permitted on the Bouncy Castle.
Personal possessions are left at your own risk. Impulse Leisure is not responsible for customer's property
Impulse Leisure allows no more than 20 children at Lancing Manor & 12 at Chanctonbury on the Bouncy Castle at a time
Please remove sharp articles of clothing like shoes, belt buckles, jewellery & hair accessories when using the Bouncy Castle
Please be aware of any smaller children using the equipment; we advice to not flip or somersault whilst on the Bouncy Castle
Please do not climb on the Bouncy Castle walls or go behind the Bouncy Castle
Impulse Leisure is not responsible for actions/accidents whilst users are on the Bouncy Castle
Please remember to enjoy yourselves in a safe manner.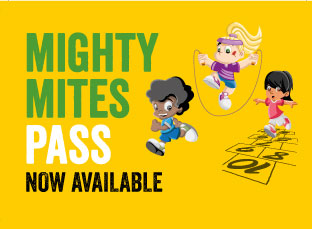 Mighty Mites pass includes 10 Mighty Mites Sessions plus 10% off the cafe for 10 uses.
Mighty Mites Gift Pass can be purchased by members and non-members.
Your Mighty Mites Pass will be activated on purchase, simply bring in your pass upon your visit for it to be stamped.
Mighty Mites Gift Pass must be used within 3 months of purchase.
Once you have redeemed your Mighty Mites Pass you cannot pass it onto another person.
Mighty Mites Guess Pass will expire exactly 3 months after purchase.
Mighty Mites Pass must be presented upon entry to a Mighty Mites Session. If you do not have the pass then you will have to pay in full for your visit.
Mighty Mites Pass is of no cash value and cannot be exchanged for cash, there is no cash alternative.
We will not accept photocopied or duplicated copies.
10% café is only valid on food that is purchased within the facilities.
The 10% only applied on the café menu. Counter Snacks, Vending and drinks are not included.
Standard Mighty Mites Rules Apply, Please click on the link above to read in full.